Customer base & loyalty
Whether you are a premium brand wishing to offer a modernized in-store customer engagement solution, a sporting goods retailer wishing to delegate loyalty program enrollment to its customers, or a cosmetics brand looking to collect informed consent . Neostore is made for you!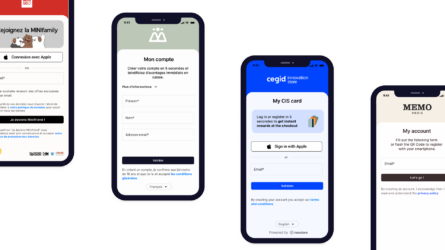 Fast and secure. Simplify customer data capture with Neostore!
The Neostore customer registration form is a ready-to-use web page optimized to delegate your customer registration and in-store loyalty processes.
The Neostore solution makes it possible to offer an improved customer experience, comply with current regulations, increase customer retention and better understand customer purchasing habits. It also makes it possible to simplify the management of personal data and guarantee customer consent for their use.
Simplification of the customer onboarding process

The collection of personal data is simplified for customers, as they no longer need to provide it verbally at checkout. This allows salespeople to focus on sales and customers to save time at checkout.

Better data quality

The collection of personal data is faster and more accurate when delegated to customers. This allows for more precise and usable data.

Compliance with current regulations

The solution is designed to comply with personal data protection standards and guarantee customer consent for the use of their data. The legal notices are clear and the double opt-in is respected.

Improved customer experience

The solution provides a personalized in-store customer experience. Customers can easily identify the benefits and promotional offers reserved for them.

Increased customer retention

Mobile marketing campaigns are more effective thanks to the Neostore.cloud solution. 'Walletized' customers spend on average 40% more than other customers. Push notifications and promotional offers help build customer loyalty and encourage them to return to the store.

Improved opt-in rate

The solution makes it possible to increase the opt-in rate and manage customer consents efficiently. Customers can easily give consent for the use of their personal data and compliance with regulations is ensured.

Rapid deployment

The solution is easy to deploy and does not require additional maintenance. It easily integrates with the brand's existing tools.

Simplified management of vouchers

Vouchers are directly displayed on the back of the Apple card, making them easier to manage for customers and the brand.

Customizing the solution

The solution is highly customizable and can be adapted to the specific needs of each brand. Registration forms are customizable and allow you to manage several scenarios such as registration, identification, enrichment and consent management.

Better customer knowledge

The solution makes it possible to increase the connection rate and customer knowledge in store. The data collected can be used to better understand customers' purchasing habits and provide them with more targeted offers.
Optimized and customizable registration forms
You can customize the registration form to your brand identity and collect customer information while respecting current privacy regulations.
Registration forms are highly customizable and allow you to handle multiple scenarios such as:
Registration – allow a customer to create an account or loyalty card
Identification – allow a customer to retrieve an account or loyalty card
Enrichment – allowing a customer to update or add additional information
Manage consents – allow a customer to easily update or revoke consents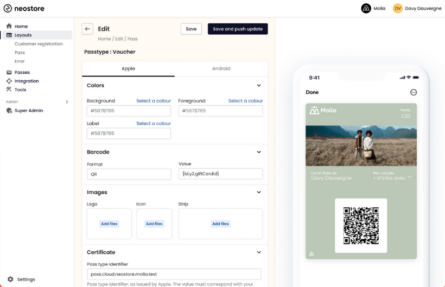 Forms are accessible by unique code in store
Data collection and consents adapted to all your stores, worldwide.
Automatic attachment of customer files to a store, a consultant, a campaign, etc.
Customizations of the form per store (fields, interests, A/B testing, etc.)​
Locations: compliance with local regulatory constraints (Legal notices, consents and translations)​
Scan and form optimization (low in-store network)​
Storage of personal data in local external databases (China, Russia) from neostore​
Collecting the customer's signature…​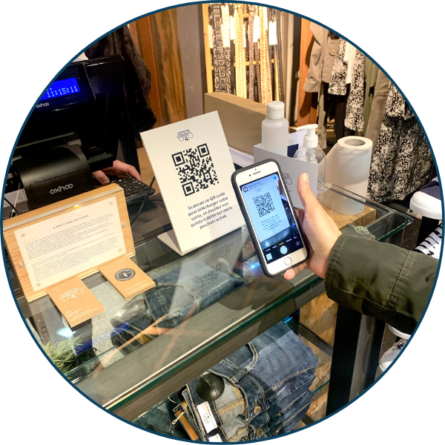 What are the limits of the customer engagement processes currently in place in stores not using Neostore?
Long and tedious process for customers, who must provide personal information verbally at checkout.

Sellers spend too much time entering personal data on behalf of customers, which can slow down the checkout process. A real obstacle, especially during busy periods!

The data collected may be poorly documented or non-existent, making it difficult or even impossible to use.

Current procedures may not comply with current regulations on the protection of personal data (GDPR, CCPA).

Customers may be reluctant to give their personal information verbally at checkout, which can harm their trust in the brand.